RELEASE 1.16.5
VERSION 1.8.20
RECENT NEWS
WIKIA CHANGELOG
Up-to-date as of Thursday, April 14th, 2022.
An ongoing effort is being made to overhaul the wiki to match the better style and consistency of the Minecraft Wiki. For now, progress can be followed here.
FUTURE DIVINERPG UPDATES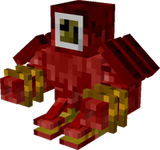 A port to Minecraft 1.18 is currently in the works, while 1.16.5 will continue to be updated with bug fixes.
HELP

If you need any help at all, please contact one of the admins listed below.
NOTE: * marks an inactive admin
You can also ask the developers and community of DivineRPG itself in the mod's Discord channel!
CHAT
<chat />
THE DIVINE POLL
ADMIN NOTICES

IMPORTANT FORUMS
RECENT ACTIVITY
FORUM ACTIVITY