Densos and Reyvor are a pair of bosses that spawn together, like Dex & Zichile. They are spawned by using either a Densos Crystal or Reyvor Crystal; either crystal spawns both. They can be spawned only in Mortum Depths (1.3 version). They both make the same sound as the Wither, but at a higher pitch.
Densos
Densos is red in color and is the melee boss. He is equipped with a Halite Blade, so be careful when fighting him as he does quite a lot of damage. He has 1000 health (500 hearts) and only takes 60% of the damage inflicted, making his health effectively 1600 points (800 hearts). Densos can drop a Halite Chestplate and a Densos Statue.
Reyvor
Reyvor is orange in color and is the ranged boss. He is equipped with a very powerful bow, making him especially dangerous as he deals high damage from range. He has 5000 health (2500 hearts). Reyvor can drop Halite Leggings and a Reyvor Statue.
Densos Spawn Crystal Recipe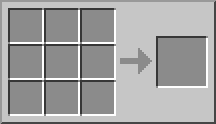 Reyvor Spawn Crystal Recipe