The blitz is a powerful ranged weapon that the player can craft using the new dimensional ores. Blitzes have a high rate of fire, moderate to low damage and require the dust from their particular twilight ore to fire. Blitzes are crafted using 7 chunks of their respective of the material (Wildwood Chunks for a Wildwood Blitz, Apalachia Chunks for an Apalachia Blitz, etc) like so: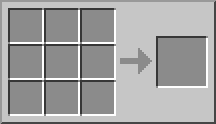 They are ranged weapons using dust as ammo:
Trivia
When a blitz is enchanted, it appears enchanted on the toolbar and when held, but the effects of the enchantment are not applied. This may be a bug.